With the Class Credit functionality, you can create Class credit products that allow your customers to make purchases until the credit is exhausted.
A Class Credit package allows your customers to purchase a credit that can be used toward individual classes. By purchasing the credit in advance, your client saves money with a built-in discount, and you get more money upfront.
Class credit products work like Gift cards. They are associated with a customer, and their usage can be restricted to specific products or product categories.
Example:
Let's say the price of your Zoom yoga class is $10.
You can create a Class Credit package that costs $100 and will grant your customers $120 Class Credit, so they are getting 2 classes for free.
Create a Class Credit product #
Add a title for your Class Credit Package.
Add a short description (e.g. This class credit package will grant you $100 credit redeemable for 10 classes)
Select "Store Credit" from the dropdown menu.
Set the price of your Class Credit Package. (This will be the price your clients will pay)
Select the "Class Credit" category. (This will help to keep all your products organized)
Select "Class Credit" tab.
Set the credit amount. (This will be the credit your customer can use to purchase classes)
(optional) Uncheck this option unless you want to allow your customers to buy a Class Credit package for someone else (like a gift card)
Write "Appointment" and select the "Appointment" product. This will restrict the Class Credit Package to be only redeemable for the classes in your booking system (zoom classes, in-person classes, events, private classes, etc.).
Select an image for your Class Credit package.
Once you're done, don't forget to click "Publish."
Send Class Credit #
The easiest way to create a Store Credit coupon and send it to a specific customer is doing the following:
Go to Store > Send Class Credit.
Enter the name or email address of the customer you wish to send credit and the amount you wish to give.
Optionally enter a note for the customer.
Click on the Send credit button.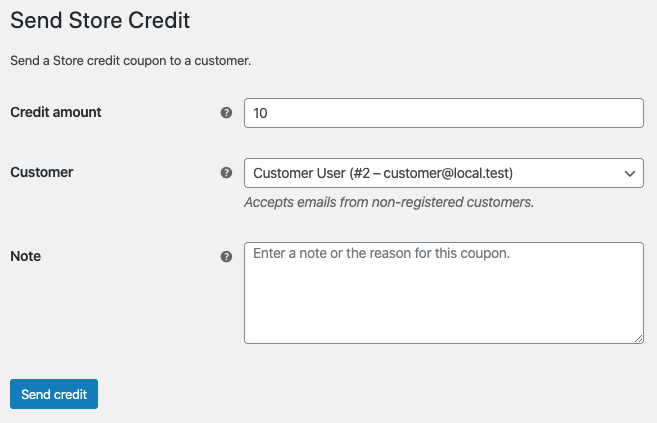 The coupon is automatically generated using the global settings and restricted to the email address assigned. Besides, the customer will receive the coupon via email.
You can also enter the email of a non-registered customer. Once you enter an email in the "Customer" field, the select field will look for a customer associated with this email. If no customer is found, the entered email will be available as a selectable option.
Additionally, if you entered a note for the customer, this note will be included in the email, and it will also be saved in the coupon description. This way, you will be able to find the coupon easily.